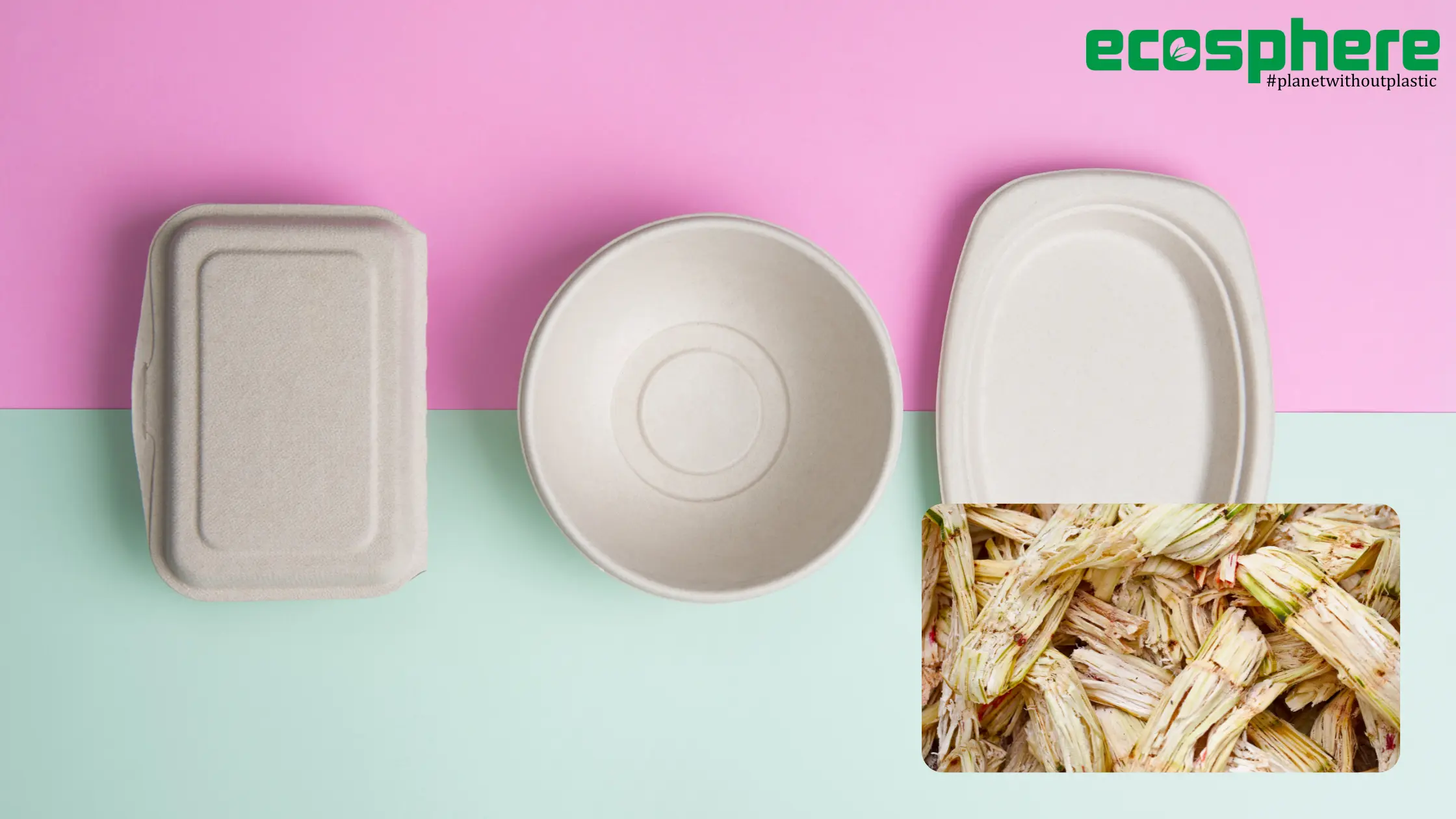 Unveiling the Eco-Warrior: Bagasse Products and Their Journey Towards Sustainability
Introduction

In the realm of sustainable alternatives, bagasse products have emerged as a beacon of eco-consciousness. Derived from the fibrous remains of sugarcane after juice extraction, bagasse products offer an array of benefits, from reduced carbon footprints to minimizing plastic waste. This article delves into the history, production process, carbon footprint, and myriad advantages of bagasse products, while shining a spotlight on Ecosphere's commitment to sustainability.
The Origins and Evolution
Bagasse, a byproduct of the sugarcane industry, was historically considered waste. However, a shift towards environmental awareness prompted its transformation into a valuable resource. Dating back to ancient times, bagasse was utilized for fuel and paper production. Today, this humble residue has evolved into a range of eco-friendly tableware, packaging materials, and more.
Production and Advantages:
The production of bagasse products involves a multi-step process. Once sugarcane is processed for its juice, the fibrous pulp that remains is collected. It undergoes cleaning, shredding, and pulping, followed by molding into various shapes using high pressure and heat. The resulting bagasse products, such as plates, bowls, and packaging materials, offer several advantages:
Reduced Carbon Footprint
Bagasse products are a prime example of utilizing agricultural waste, thus minimizing the environmental impact associated with disposal. Unlike plastics, which are fossil fuel-derived, bagasse products contribute significantly less to carbon emissions.
Biodegradability
Bagasse products are fully biodegradable, meaning they decompose naturally without leaving behind harmful microplastics. This trait aligns with Ecosphere's mission to combat plastic pollution.
Renewability
Sugarcane is a rapidly renewable resource, making bagasse products a sustainable alternative to conventional single-use plastics.
Versatility
Bagasse products come in a variety of shapes, sizes, and designs, catering to diverse needs while being sturdy enough to handle various types of food.
Heat Resistance
Bagasse products have excellent heat resistance, making them suitable for hot and cold food items.
At the forefront of the sustainable revolution, Ecosphere is committed to offering a wide range of eco-friendly alternatives. Our product lineup includes paper cups, biscuit cups, unbleached A4 sheets, seed pens and pencils, bagasse tableware, areca tableware, cornstarch tableware, and various eco-friendly packaging materials. By incorporating bagasse products into our portfolio, we emphasize our dedication to a greener future.
Did you know?

Did you know that the bagasse tableware products offered by Ecosphere are not only eco-friendly but also highly functional? These products are designed to be both freezable and microwaveable, providing convenience without compromising sustainability.
Bagasse products have emerged as a compelling solution to the global plastic crisis. Their evolution from a discarded residue to versatile eco-friendly alternatives showcases the potential of sustainable innovation. Ecosphere, in line with its values, is championing this movement by offering an array of environmentally friendly products that include bagasse tableware among other options. As we strive for a planet free from plastic pollution, the adoption of bagasse products becomes a significant step towards building a sustainable and prosperous future for generations to come.